History of Gloria Dei Lutheran Church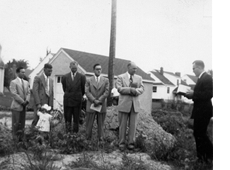 On April 26, 1950, the Minnesota District Mission Committee met to discuss plans to start a new congregation. Although the Lutheran Church Missouri Synod had a shortage of about 250 pastors, the Reverend Luther H. Anderson accepted a call of our Lutheran Mission in January of 1951. On April 15, he was installed as our first pastor at a special service held at Saint Matthews Lutheran Church.

On April 22, 1951 Services and Sunday School were held at the Hollywood Theatre at 28th and Johnson Streets, Northeast. 38 people attended. Services were held at the theatre every Sunday until September 7, 1952.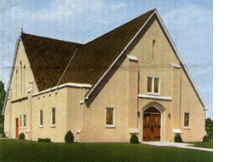 On February 22, 1951 six and one half lots were purchased at Thirtieth and McKinley. Ground breaking took place on August 12, 1951. Names considered for our new church included Tabor (which means "Height" in Hebrew), Mercy and Lutheran Church of the Ascension. "Gloria Dei" was the name the new congregation of Northeast Minneapolis had selected. A striking name, which declares to all the world that its work in the new community is to "The Glory of God."

Gloria Dei grew from our humble beginnings in 1951 of 33 members. As of April 1961, we reached 340 communicant members, 589 souls and 170 Sunday School pupils.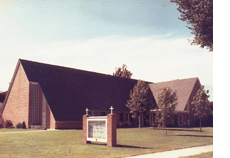 The need for more adequate worship and educational facilities was recognized and in May, 1961 Gloria Dei's "Venture of Faith" was undertaken. On Sept. 9, 1962 we held a Dedication Service to our church expansion. Gloria Dei Lutheran Church has been blessed these last seventy years with many memories and traditions. We have been, and continue to be, a beneficial organization for God and our community. Together we have built a church for which we can all be proud. We look forward to many more years of faithfulnes to the Glory of God.

"O LORD our God, all this abundance that we have provided for building thee a house for thy holy name comes from thy hand and is all thy own." — 1 Chronicles 29:16